Barbie Star Light Adventure Book (2016)
ABOUT BARBIE STAR LIGHT ADVENTURE (BARBIE STAR LIGHT ADVENTURE)
Children ages 6 to 9 will love reading the whole story of Barbie's movie, Barbie Star Light Adventure, in this easy-to-read chapter book featuring full-color illustrations, a sparkling glitter cover, and a collectible bookmark!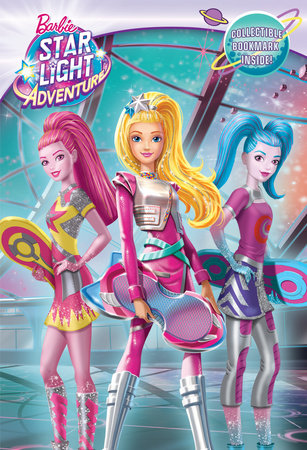 Meet Barbie – a hoverboarding champion who lives with her dad and her pet, Pupcorn, on a planet called Para-Den. She's smart, honest, caring and can also move matter with her mind when she sings!
One day, Barbie is called upon by King Constantine to help his mission to save the stars. Can Barbie and her friends Prince Leo, Kareena and Sheena, and Sal-Lee save the universe?